The Head of College is the head and ranking officer of Berkeley College, responsible for the college's intellectual, social, athletic, and artistic life. The college is administered through the Head of College's Office, which is staffed by an operations manager, senior administrative assistant, and student aides. The Head of College works closely with the Dean, Resident Fellows, the Dining Hall Manager, and other staff to build the best possible community for our students.
Head of College David A.D. Evans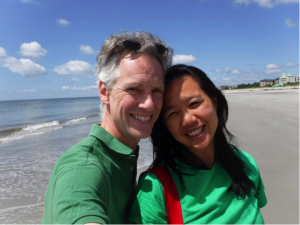 David A.D. Evans is a member of the faculty of the Department of Earth & Planetary Sciences. Professor Evans focuses his research on plate tectonics, the past motions of continents across Earth's surface. He is director of the Yale Paleomagnetism Laboratory, which traces this movement by measuring fossil magnetism preserved in ancient rocks from around the world.
His work has elucidated the configurations of vanished supercontinents named Pangea, Rodinia, and Nuna (each separated by about 600 million years); characterized the geometry of Earth's ancient magnetic field; and provided evidence for globally engulfing "Snowball Earth" ice ages that occurred deep in Earth's history, around the time when animals were first evolving. He earned his Ph.D. at the California Institute of Technology and conducted postdoctoral research at the University of Western Australia before joining the Yale faculty in 2002. He especially enjoys sharing his knowledge of the world's geology, climate, and natural resources with undergraduate students in his introductory-level courses at Yale.
Professor Evans grew up in the suburbs of Milwaukee, Wisconsin, and graduated from Yale College (where he was a resident of Berkeley) in 1992. His is a family of Berkeleyites: his father is BK'62 and his sister is BK'89. Aside from cheering on, often fruitlessly, his favorite professional sports teams (the Green Bay Packers and Milwaukee Bucks), Head Evans's main extracurricular passion is music, regularly playing contrabass in the Berkeley College Orchestra and occasionally slapping a bass guitar or reciting old-school hip-hop lyrics.
The Associate Head of Berkeley College, Lely Dai Evans, is a language educator and educational consultant. Raised in Taiwan, Lely received her undergraduate degree at Occidental College and a master's degree in early violin music performance practice from The University of Western Australia. She also loves cooking and brings many aspects of food preparation, as well as music, into her teaching repertoire.
The Evanses are joined by their cavachon dog named Brie, who is hypoallergenic and growls only when she has not received the proper amount of petting or other attention from members of her international fan base.
Sarah Layedra, Assistant Director of Operations, Berkeley College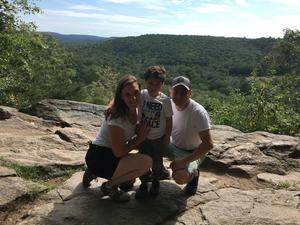 Sarah Layedra joined Berkeley College in June 2017 and is the Assistant Director of Operations, Berkeley College.  With direction from Head of College David Evans, Sarah is responsible for managing the financial and administrative operations of Berkeley. This includes overseeing the college's finances, events, and facilities. She is also the coordinator of the Paul Mellon Fellowship. In addition, Sarah oversees special projects, and serves as liaison between the college and the Yale College Business Office. This deceptive description fails to explain how truly vital Sarah is in maintaining the collegiate environment.  She manages every facet of college life including the oversight of College funds, fellowships and events. Because of Sarah's involvement in many aspects of Berkeley College life, she will often be a student's first recourse for questions about fellowships and college life. At most every event, you will find her working behind the scenes with Naomi DiGioia and the College Aides to ensure its success.
Sarah's favorite free time activity is spending time with her husband Jose and son Andrés.
Sarah is in F20 and can be reached by e-mail at sarah.layedra@yale.edu or at (203) 436-2899 on weekdays. 
Naomi DiGioia, Senior Administrative Assistant II, Berkeley College Head's Office
Naomi DiGioia 
joined Berkeley College in June 2017 and 
is the  Senior Administrative Assistant II, Berkeley College Head's Office.  She handles the day-to-day business of the Berkeley Colle
ge Administrative Office; Naomi works with Sarah and the Colleg
e Aides to manage col
lege activities as well as the bustling Head of College's Office. Naomi is the point person for any questions about college life
. If Naomi or the College Aides don't have the answer, they will be able to direct you to someone who can help. Naomi is very efficient in helping you with any need you may run into including taking care of your snack cravings.  She is also the person to see if you find yourself wrapped in a towel and locked
 out of your room. If you need to make an appointment with the Head of College, contact Naomi who is always willing to lend a hand or an ear to students who need it.  
Naomi has worked at Yale since 2004, working for Yale College Summer Session before joining Berkeley.  Born and raised in the New Haven area, Naomi now lives in beautiful Beacon Falls with her husband and daughter.  In her spare time, Naomi likes to practice yoga, tend her bees, read, cook, and spend as much time as she can with family and friends.  
Naomi's office is in F14 and she can be reached by e-mail at naomi.digioia@yale.edu or at (203) 432-0501 on weekdays.
Jolanta Skonieczna, Residential College Service Assistant II, Berkeley College

Jolanta Skonieczna joined Berkeley College on February 1996 as the Swensen House Service Assistant II.  She is  always ready to serve students and faculty.  Jolanta came to the USA from Poland.  In her free time she is a typical "soccer mom" and juggles her time between her three sons soccer games.  Most of all she enjoys spending time with her husband and sons.
College Aides
Berkeley College Aides are stewards and ambassadors of the Berkeley College Community. Our College Aides are sophomores, juniors, and seniors who have been hired by the Head of College, Sarah and Naomi to assist in running the residential college. They help organize the many events sponsored by the Head of College's office, from the First-year move-in and picnic at the beginning of the year to the Berkeley Commencement in May. Each is responsible for specific common areas of the College, including the Berkeley Buttery, student kitchen, music room, wellness room (the Roost) and the library. They can often be found in the Head of College's Office helping make life slightly less stressful for Berkeleyites. During the academic year, contact them directly via email at bkcollegeaides@gmail.com, or drop by the Head of College Office during business hours (9am-5pm weekdays).  To learn more about our amazing aides see their profiles below.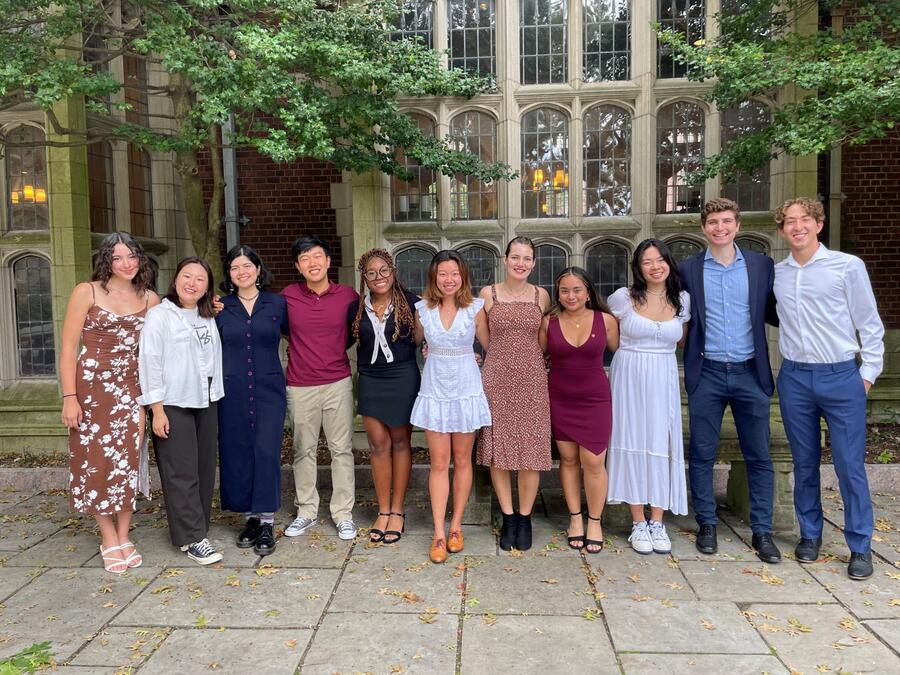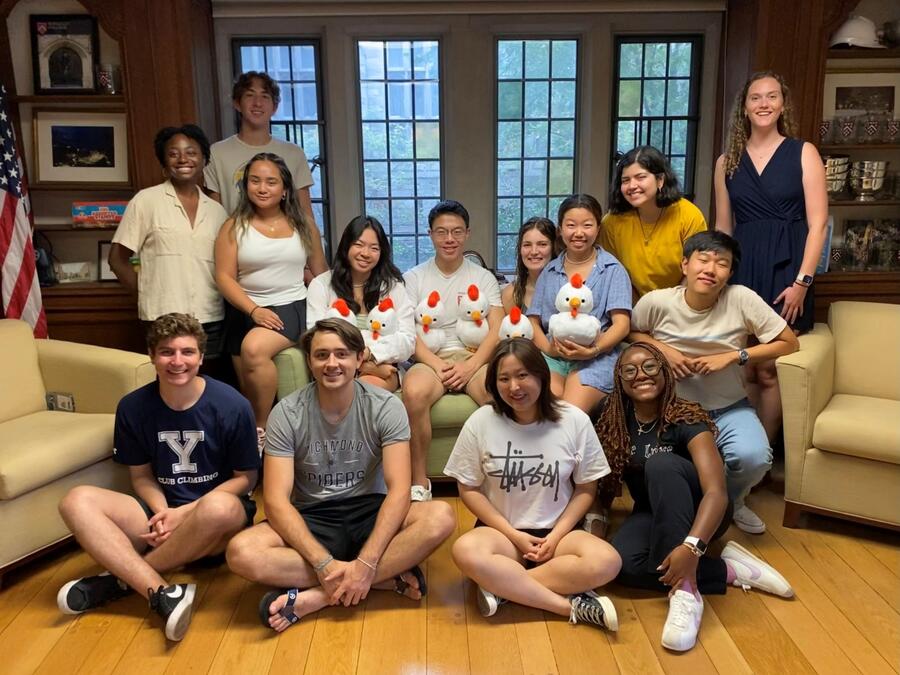 The 2023-2024 Berkeley College Aides Application will be avaliable in January 2024.
College's Aides for 2022-2023
Mina Aral '26

 

I'm an international student from Turkey. I grew up in Istanbul. I'm doing Directed Studies, taking Computer Science classes alongside. Although I am undecided for now, I'm planning on majoring in CS. I love films, books, and painting. You can find me wandering around campus and appreciating the beautiful architecture any time of the day, especially during sunset. Most Thursday nights, I can also be found struggling to finish a DS paper in the Berkeley common room.  

Charmain Bayalan '25

Charmaine was born and raised in the Philippines and moved to Anchorage, Alaska when she was 12 years old.  She is planning on majoring in History of Science, Medicine and Public Health. Her favorite places in Berkeley are the dining hall, the roost (especially the massage chair), and the courtyards. In her free time, you can catch her hanging out with her friends, binge watching Gossip Girl, baking chocolate chip cookies and going for drives. As an avid fan of Alaskan summers, you can find her camping, fishing, biking and hiking with her dad during the summer. She is looking forward to meeting new people through working as a Berkeley college aide!

Ben Crair '25

Ben is a Junior from Guilford, Connecticut majoring in Statistics & Data and pursuing the Energy Studies Certificate. He is a huge fan of the outdoors and loves the Yale climbing team, Yale Outdoors, and FOOT. Around Berkeley, you can find him hanging around the Roost or planning events for the college.

Andrik Garcia '25

Andrik is a prospective Sociology and Political Science major from Roma, TX. Originally from Mexico, he migrated to the Rio Grande Valley when he was eight. Andrik loves being involved with Matriculate, Yale Interpretation Network, Ballet Folklórico, and YUPP. On his free time, he loves to dance cumbias, run, and cook for his friends. Andrik's favorite place in BK is the Coop's massage chair. If you don't hear him singing around campus, it's probably because he is drinking a cold brew from Atticus. 

Gia George-Burgher '26

 

Gia is a prospective double major in Theater, Dance, and Performance Studies and Molecular, Cellular, and Developmental Biology from the (Boogie Down) Bronx in New York City. She is a member of Yale's Premier Latin Dance Team Sabrosura and the Dramat. When she's not in class or on stage, Gia loves to hang out in the buttery or the Roost and chit chat with Damaris in the office.

 

Wilhelmina Graff '24

 

Wilhelmina is from Utah who is thinking about majoring in Political Science. With a couple gap years under her belt, including one spent partially on a goat farm in Washington, she is looking forward to being back on campus. She plays for the Yale Women's Ultimate Frisbee team, Ramona Quimby, and writes for the YDN Mag. Off campus, Wilhelmina loves backpacking, reading, cross-country road trips and debating the merits of fry sauce (she would argue that it is one of her home state's best exports). On campus, you can often find her in the BK reading room, tossing a frisbee somewhere or spending time with her BK family. She looks forward to serving you as a college aide! 

 

Eunsoo Hyun '23

Coming Soon!

Jessica Le '25

My name is Jessica Le and I am studying Cognitive Science and Computer Science. I am also a Berkeley Thunderfloq coordinator and love our bk community. In my spare time I love to mountain bike, dance, and hikes. 

Goeun Lee '25

Goeun studies Psychology and HSHM at Yale, with interests in pediatric clinical psychology and global health. She is from Los Angeles, CA and she loves Berkeley's Roost & BK special from the buttery. 

Abigail Lopez Freire '26

Abi is a prospective Molecular, Cellular, & Developmental Bio major from Maryland! She enjoys taking long walks around campus, taking photos of people and places on rolls of film, exploring the many Yale libraries, and making fun pieces of jewelry. She's so excited to be a college aide at the best residential college: Berkeley! Around Berkeley, you'll find her in Laz library, in the art gallery, in the buttery with friends, or in BK's courtyards soaking up the sun. 

Treyton Martin '25

Treyton is the Junior Chief Aide of Berkeley College. He is from a small town in Indiana and plans to major in Ecology & Evolutionary Biology. He is also involved with the Yale Policy Institute, and can't wait to serve as Co-Chief of Berkeley. In Berkeley, he can be found in the buttery, Mendenhall room, or the Roost. 

Matt McNierney '24

Matt is a born-and-raised Long Islander and is studying chemistry at Yale. He's interested in pursuing an MD post-Yale and practicing anywhere but the East Coast. Outside of classes, he enjoys hanging out with his friends, knitting/crocheting, playing the piano, and watching a lot of A24 movies. Back home on Long Island, you can find him exploring many of the beautiful harbors, parks, and cute towns during the summer months, no matter how short they may be.

Kamiye Runsewe '24

 

Kamiye is Chief Aide and is from Maryland and loves literature and film photography. She's involved with WORD: Performance Poetry at Yale and is super excited to serve as Co-Chief Aide of Berkeley College. Within Berkeley, she can be found swinging on the South Court hammock and lollygagging in the Roost.

 

Kevin Seo '26

Kevin is a prospective Molecular, Cellular, and Developmental Biology and Economics double major. He was raised in Southern Maryland and enjoys swimming with friends, sleeping, and spending money on stuff he does not need. He can be found in Lower Laz, playing the piano in the Berkeley common room, or studying at the Haas Arts library at the School of Architecture. 

Libby Snowden '24

 

Libby is planning to major in Chemistry and is so excited to be more involved in the BK community as an aide. With additional interests in American history and law, she is a member of the Yale Undergraduate Moot Court Team and a fellow in the Buckley Program. Around New Haven, she frequents the Jitterbus and Koffee?—which one she picks on a given day depends on what drink she's in the mood for. Within Berkeley, she spends much of her of time with BK friends watching new shows the Mendenhall room or sharing meals in the courtyards.

 

Andrew Wang '25

Andrew Wang is in the class of 2025, studying Economics. He grew up in Beijing, but went to high school in Atlanta. He plays trumpet in the YSO.

Owen Wheeler '24

Coming Soon!

Sophie Wright '24

Sophie was born and raised in Cambridge, MA. She is majoring in the History of Science and Medicine, concentrating on public health and medicine. She is a triple jumper on the women's track and field team and is involved with the Period Club at Yale and the Yale Buddhist Sangha. You can find her sitting in the wellness room massage chairs, soaking up the sun on cross-campus on a warm spring day, or bothering the office staff between classes and shifts. Off-campus, she loves to be outside - hiking, skiing, and exploring new places.