The Head of College is the head and ranking officer of Berkeley College, responsible for the college's intellectual, social, athletic, and artistic life. The college is administered through the Head of College's Office, which is staffed by an operations manager, senior administrative assistant, and student aides. The Head of College works closely with the Dean, Resident Fellows, the Dining Hall Manager, and other staff to build the best possible community for our students.
Head of College David A.D. Evans    
---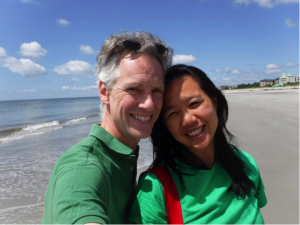 David A.D. Evans is a member of the faculty of the Department of Geology & Geophysics. Professor Evans focuses his research on plate tectonics, the past motions of continents across Earth's surface. He is director of the Yale Paleomagnetism Laboratory, which traces this movement by measuring fossil magnetism preserved in ancient rocks from around the world. His undergraduate classes at Yale span from introductory geology to global tectonics, natural resources, and changes in Earth's climate. In these courses and for his research, he has taken students on numerous geological field trips across the New England Appalachians, as well as to more far-flung destinations including Australia, Barbados, Canada, Italy, Namibia, New Zealand, Norway, and South Africa.
His work has elucidated the configurations of vanished supercontinents named Pangea, Rodinia, and Nuna (each separated by about 600 million years); characterized the geometry of Earth's ancient magnetic field; and provided evidence for globally engulfing "Snowball Earth" ice ages that occurred deep in earth's history, around the time when animals were first evolving. He has co-led two UNESCO-based international geological projects to examine ancient supercontinents and their relation to the broader Earth system.
Professor Evans grew up in the suburbs of Milwaukee, Wisconsin, and graduated from Yale College (where he was a resident of Berkeley) in 1992. His is a family of Berkeleyites: his father is BK'62 and his sister is BK'89. He earned his Ph.D. at the California Institute of Technology and conducted postdoctoral research at the University of Western Australia before joining the Yale faculty in 2002. That same year, he received a competitive research fellowship for early-career scientists from the David & Lucile Packard Foundation; in 2015, he was elected a fellow of the Geological Society of America, receiving the society's George P. Woollard Award "for outstanding contributions to geology through the application of the principles and techniques of geophysics."
Also joining the Berkeley community are Professor Evans's wife, Lely Dai Evans, a Chinese language teacher by day, but skilled in music and many other artistic endeavors, and their 11th-grade daughter Corinne, 9th-grade son Jamie and a "cavachon" dog named Brie who is hypoallergenic and growls only when she has not recieved the proper amount of petting.    The Evanses share a passion for music: David and Lely met as students in the joint orchestra of Caltech and Occidental College, and she received a master of music degree from The University of Western Australia (in early violin performance practice), while he is a bassist and a member of the Berkeley College Orchestra. Lely also loves cooking and brings many aspects of food preparation, as well as music, into her classes.
The family members share a love of active international travel, playing games, and attending the New Haven Chinese Language School, which meets in WLH on Sunday mornings, just steps away from their new home! Corinne is an avid reader who enjoys creative writing, MathCounts, and progressive rock music; Jamie likes pencil drawing, playing piano, and "all sports except for baseball and softball," and recently walked with his father across Connecticut to raise funds for the UN Refugee Agency. Both children practice capoeira, a Brazilian martial art that combines dance, acrobatics, and music. Brie, a cavachon (half cavalier spaniel, half bichon frise), already has an international fan base, which she looks forward to extending to Yale's central campus.
Sarah Layedra, Operations Manager
---
Sarah Layedra joined Berkeley College in June 2017 and is the Operations Manager for Berkeley College.  With direction from Head of College David Evans, Sarah is responsible for managing the financial and administrative operations of Berkeley. This includes overseeing the college's finances, events, and facilities. She is also the coordinator of the Paul Mellon Fellowship. In addition, Sarah oversees special projects, and serves as liaison between the college and the Yale College Business Office. This deceptive description fails to explain how truly vital Sarah is in maintaining the collegiate environment.  She manages every facet of college life including the oversight of College funds, fellowships and events. Because of Sarah's involvement in many aspects of Berkeley College life, she will often be a student's first recourse for questions about fellowships and college life. At most every event, you will find her working behind the scenes with Naomi DiGioia and the College Aides to ensure its success.
Sarah's favorite free time activity is spending time with her husband Jose and young son Andrés.
Sarah is in F20 and can be reached by e-mail at sarah.layedra@yale.edu or at (203) 436-2899 on weekdays. 
Naomi DiGioia, Senior Administrative Assistant
---
Naomi DiGioia is the Senior Administrative Assistant to the Head of College.  Naomi works with Sarah and the College Aides to manage college activities as well as the bustling Head of College's Office. Naomi is the point person for any questions about college life and facilities (including scheduling use of public spaces like the Multipurpose Room, BK Gym, the Music Room, and the Mendenhall Room). If Naomi or the College Aides don't have the answer, they will be able to direct you to someone who can help. Naomi is very efficient in helping you with any need you may run into including taking care of your chocolate cravings. She is also the person to see if you find yourself wrapped in a towel and locked out of your room. If you need to make an appointment with the Head of College, contact Naomi who is always willing to lend a hand or an ear to students who need it.  
Naomi has worked at Yale since 2004, working for Yale College Summer Session before joining Berkeley College in June of 2017.  Born and raised in the New Haven area, Naomi now lives in beautiful Beacon Falls with her husband and daughter.  In her spare time, Naomi likes to read, cook and spend as much time as she can with family and friends.
Naomi is in F15 and can be reached by e-mail at naomi.digioia@yale.edu or at (203) 432-0501 on weekdays.
College Aides
---
College Aides are sophomores, juniors, and seniors who have been chosen by the Head of College to assist Sarah and Naomi in the running of the college. They help organize the many events sponsored by the Head of College's office, from the Freshman Picnic at the beginning of the year to the Berkeley Commencement in May. Each is responsible for specific areas of the College, including the Berkeley Buttery, and the Library. They can often be found in the Head of College's Office helping make life slightly less stressful for Berkeleyites.
Click here for the 2018-2019 Berkeley College Aides Application
College's Aides for 2018-2019
Dalton Boyt ('20) – Chief Aide

Xan Minan ('20) – Chief Aide

Anthony Anzano ('20)
Lauren Chapey ('20)
Kaveri Curlin ('19)
Charlotte Emerson ('21)
Isabella Epstein ('21)
Amelia Farinas ('20)
Bishoy Magalla ('20)
Colin McCloskey ('20)
Qusay Omran ('21)
Veronica Sosa ('21)
Safia Speer ('20)
Kate Tewksbury ('20)
Michael Whalen ('21)
Gwen Wheeler ('20)
Max Wilson ('19)