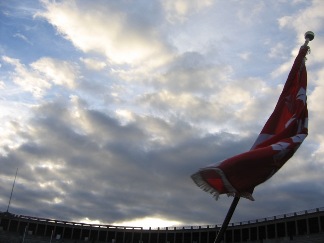 Hey Berkeleyites!
Get involved with Berkeley College by participating in intramural sports (or "IMs" as they are called around campus). Whether you played professionally since the age of seven or can hardly walk up to your dorm room without tripping, we need YOU to come out and play for Berkeley.
Sports are played in the fall, winter, and spring, and are open to anyone! Contact one of the Berkeley IM secretaries for more information.
For more information on the Yale Intramural Sports Program, visit www.yale.edu/intramurals.
BK All The Way!!
Schedule
Soccer, Football, Volleyball, Tennis, and Cross Country are played at the IM fields. Catch the 3:30 bus for 3:50 games, 3:45 bus for 4:00 games, and the 4:30 or 4:45 bus for 5:00 games. All buses leave from Payne Whitney Gym every 15 minutes.
Table tennis is played on the 5th floor of Payne Whitney Gym in room H. Equipment for racket sports will be provided if you don't have your own.
Berkeley Intramural Secretaries